It all started with a love for the movie Titanic, the
characters, a love of the Edwardian era costumes
& jewelry. My husband said "you should have a store"
so then came my storefront, The Pearl's Water Street
Boutique & two weeks later my husband finished building
our Titanic Movie Museum & it opened up to the public. I was
basically content to have a place to showcase the collectables
that I had acquired, but the word got out, newspapers wanted
interviews & the rest is history. My husband is our Public Relations Director, temp. graphic designer & much more. He
is my soul mate & without his encouragement & support I would not be able to do most of what I do. Thank you dear!

From here, my dream was to
have a Titanic Dinner Cruise, but didn't have a boat in
mind until a friend mentioned the Detroit Princess
Riverboat. so we contacted them & from there the vision took
off full throttle. We took her to sea on April @5.2009...the dream kept going.
​

We have the utmost respect for the families of lost
loved ones of this tragic event and we feel that the
loss of their loved ones was not in vain, as many
people today are keeping their memories alive by
getting together. I believe that if they had the chance they
would be happy that much good has come from such a tragedy. Check our Current Events page for up to date events such as the Anniversary Titanic Dinner Cruise we are planning for Spring of next year. Inquire early to make sure you get a seat!

We commend James Cameron, the cast & crew for doing such a wonderful job bringing Titanic back to light for those
of us who barely knew anything about it until we seen the
movie and for reviving a new found interest in such a beautiful
luxury ship that carried with her so many hopes & dreams.
The romantic story &
beautiful song "My Heart Will Go On" will forever
change history. We thank beautiful Celine Dion for
lending her fabulous voice for this song.
titanicmoviemuseum@sbcglobal.net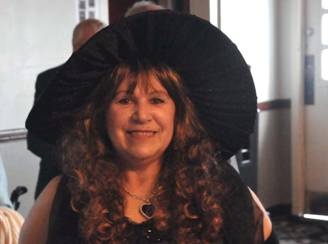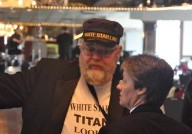 Captain:
Maggie​
First Mate
Chief Purser
Dan​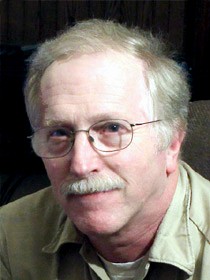 Historical Navigator:
George Behe
Graphic Architect:
K​im

Deck Hand:
​ Angie